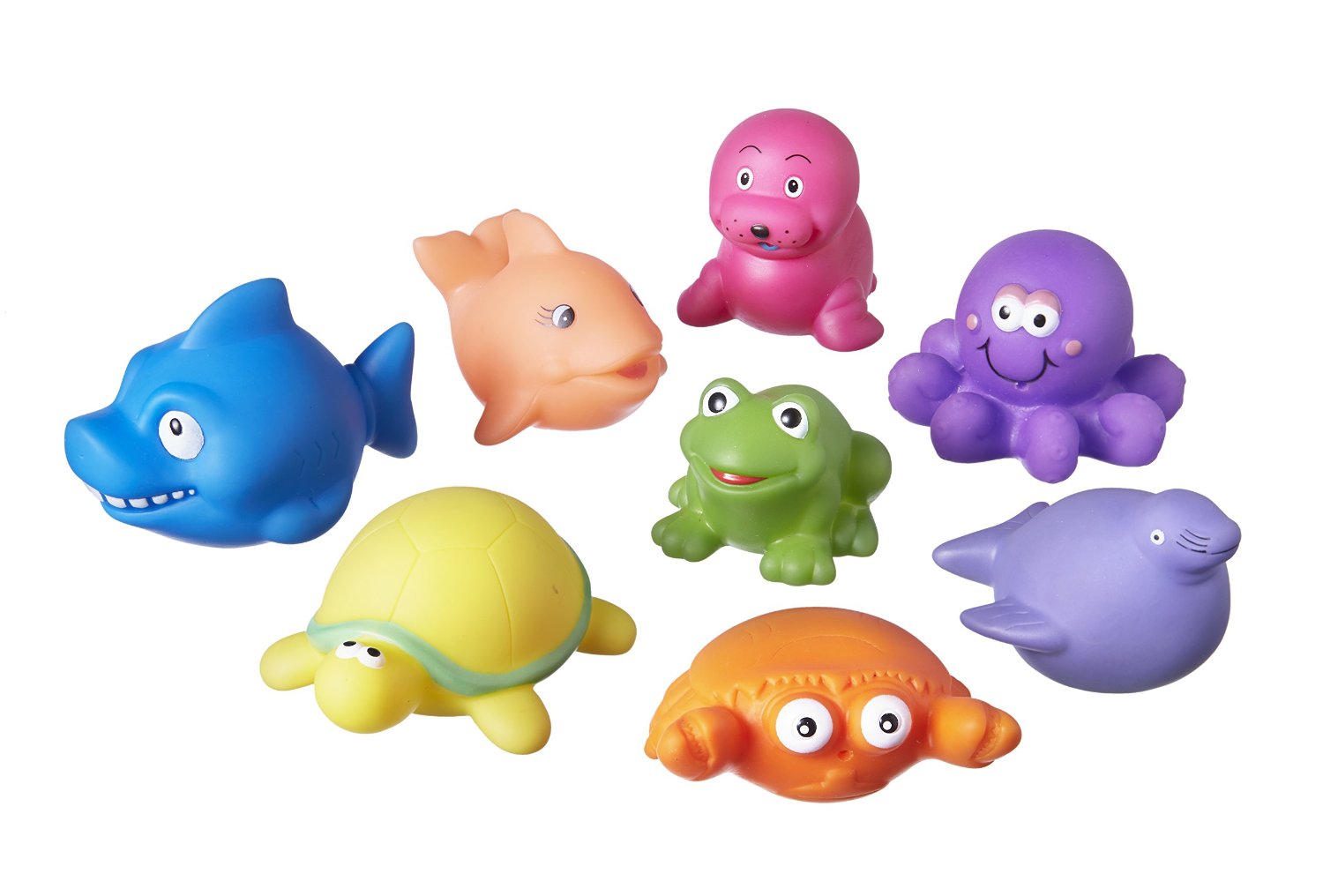 With a sea of choices in store aisles, parents often have trouble finding the best bath toys for their babies or toddlers. Make your baby look forward to bath time and inspire your child to use his or her imagination. The best way to tap into those fun make-believe moments is to choose simple, non-electronic bath toys that let your child drive the action.
A key part of any baby's routine, bathtime is the bit of the day where you can finally all relax and have some fun before it's time for bed.
Rather than make it a chore, inspire their imagination with our pick of the best bath toys.
We tried and tested every one of these to make sure they really are the splishiest, splashiest fun money can buy. Just add bubbles.
Imaginative Play at Bath Time
"Play is so important in the social, mental, physical, and emotional development of children," says Vicki Panaccione, PhD, a child psychologist and founder of the Better Parenting Institute.
"Toys that do too much don't allow a child to use her own imagination. Dolls and stuffed animals that talk or sing or direct kids to press certain buttons essentially take charge of the play situation when the child should be the one directing the action. When a toy is too specific, it's limiting and it denies the child the ability to use her imagination," says Panaccione. Choose simple, age-appropriate toys that allow your child to be creative and spontaneous."
We designed the Oball bath line to be some of the best bath toys for baby. Even the most inexperienced little fingers can easily fit into the geometric holes, so baby can grasp them at an early age. When baby can pick up and grasp toys, play time can become much more fun and engaging. Here are our suggestions for incorporating Oball Bath Toys into baby's play.
BABY'S FIRST TOY DUCK FOR BATH TIME
The rubber ducky at bath time is a classic favorite. But this isn't your average rubber ducky! O-Duckie™ Bath Toy has unique, geometric holes that little fingers just can't resist, and yet, it still floats! Those holes mean this little ducky drains and dries completely, and helps you fight mildew because they are dishwasher safe!
Splash And Pour Toys Make Bath Time More Fun
The sound and feel of splashing are great sensations for little ones. The Scoop 'n Spill™ Bath Toy includes stackable cups with perfectly-sized geometric holes so baby can pick up, scoop, pour and spill to their heart's delight.
Tubby Scoop Friends™ lets baby scoop and pour water out of a little whale-shaped pitcher. This bath time kit includes a sinkable star fish, a turtle with a shell that paddles, and an octopus that squirts!
Wind-Up Toys For Baby's Bath
The Tubmarine™ Bath Toy floats through the water, powered by a fun, wind up propeller. This little yellow submarine will help your baby's imagination soar as baby discovers how things float, dive and move in water.
With the right toys, bath time becomes the perfect time to imagine and create those memorable moments of interaction between you and baby. These bath toys are sure to make a splash!
Munchkin Caterpillar Spillers
Here's proof that sometimes the simplest of toys can be the most fun – link, stack, pour, and strain water through these seven coloured cups. And when bathtime's over, they conveniently nest neatly together. These are also great for playing in sand, and we loved shining a torch at each cup to make patterns on the ceiling. From nine months.
VTech Bubble Blowing Whale
Anything to do with bubbles is going to be a hit with little ones. So a bath toy that secures to your tiles and actually blows bubbles is definitely going to be a popular choice. And this one blows bubbles in time to five different chirpy, sing-a-long songs for your child to pick from. It doesn't come with bubble solution but your good old baby bubble bath will do. From 12 months.
Elmer The Elephant Bath Toy
Based on the hugely popular series of children's books about a patchwork elephant, this soft toy is made of quick-drying fabric, but is well-suited to bathtime. Fill Elmer The Elephant up and squirt water from her trunk, teaching about children cause and effect. From 12 months.
Tub Tunes Water Flutes
Let your toddler create music in the bath tub with Alex Tub Tunes Water Flutes. Fill each flute up with various amounts of water and listen to the tunes your toddlers has to play.
Duck Stacking Bath Toys
This adorable set of three colorful ducks float and allow your toddler to pour for endless bath fun! The Dunck bath toys also double as rinse cups for washing off soap or shampoo. It's a win-win!