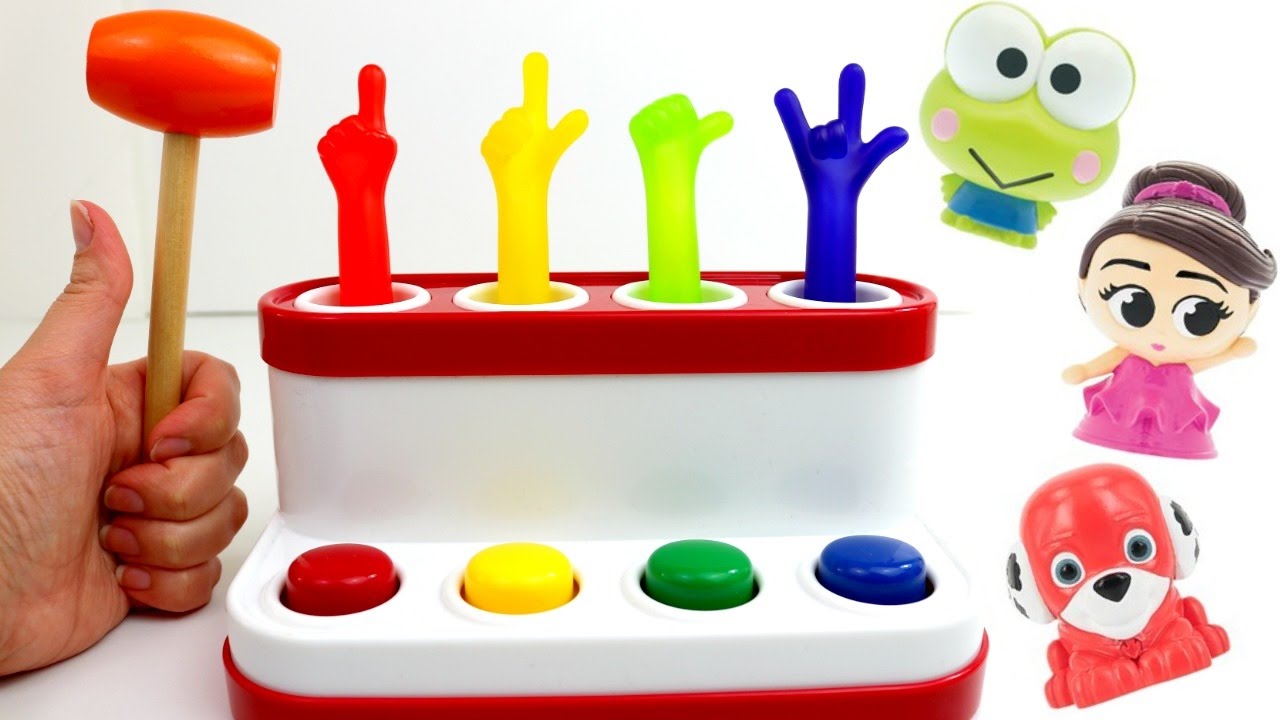 Teaching alphabet letters, first words, numbers, counting, shapes, sizes and colors – It's all meaningful mentoring. These are educational specialty toys and games that your little learner will be drawn to and can appreciate. When a child shows interest or aptitude toward early academics there's no better time to start!
In the first year of a baby's life, the brain doubles in size, according to a 2007 study. The hippocampus, a seahorse-shaped structure deep in the brain that is used in memory processing, reaches its adult size by 10 months of age. These anatomical changes go hand-in-hand with rapid development:  Motor skills, language, and even social understanding all advance by leaps and bounds.
Toddlerhood brings an even more dramatic transformation, as kids learn to walk and talk and solve problems. These science-y toys will put all that developing brainpower to good use.
A Better Block
Boikido's Musical Blocks go beyond the basics with cleverly placed rattles, bells and beads.
Stick 'Em Up
Magnets hold the Lamaze Totem Stackers together while crinkles and rattles hold baby's attention.
Top Chef
For your budding Gordon Ramsay, we give five stars to Fisher-Price's jingly and shiny Brilliant Basics Stack and Nest Pots and Pans.
What a Steal
Work those baby muscles (and boost his hand-eye coordination) with the Leka baby gym — one of the cutest and cheapest on the market.
Balancing Act
Before he graduates to Angry Birds, mesmerize him with this Birds Stacking Tower by Glueckskaefer.
Beginner Shape 3-Piece Puzzle – Bugs
Introduce your baby to the wonders of nature early with this three-piece wooden puzzle. The toy will also introduce your child to shapes (triangle, circle and rectangle), and matching pictures underneath will help your baby recognize where each piece should go. The plywood pieces are made with a non-toxic, water-based finish, according to P'kolino. (Recommended ages: 6+ months)
A Dinoztory Book
Give your baby a hands-on experience with this adorable soft book about dinosaurs. The four pages include colorful and tactile fabrics to stimulate your baby's senses. The book is held together with a velcro-like clasp, and it's easy to clean with lukewarm water and soap. (Recommended ages: 6+ months)
Newborn-to-Toddler Play Gym
This Fisher-Price activity center features lights, sounds and music to stimulate your baby's senses and help your bundle of joy develop fine motor skills, balance and coordination. The convertible play gym is designed to "grow" with your child, meaning babies can start by lying on the machine-washable padded mat, before graduating to sitting down and playing, and finally standing at the activity center. (Recommended ages: Birth and up)
Baby Einstein Take Along Tunes Musical Toy
Babies love music, and parents love virtually everything Baby Einstein has to offer. The Baby Einstein Musical Toy plays 7 baby friendly classical melodies, and it's very colorful. The big pieces are easy for babies to grasp, and the large buttons are easy for babies to press. The company's baby learning toys, like this one, promote auditory development and music appreciation.
VTech Sit-to-Stand Learning Walker
To help babies to walk and develop leg strength, the VTech Sit-to-Stand Learning Walker can't be beaten. It's an interactive learning tool that features a removable toddler play panel to help your baby hone in on their fine motor skills. While they're busy playing, they're also working on those baby leg muscles that'll help them stand on their own, eventually. For now, they'll be happy to lean on this fun toy.
FocuSun Playpen Ball Pit
For endless amounts of fun, the FocuSun Playpen Ball Pit is a great choice when looking at baby gifts. It's very colorful, and it gives your baby a little bit of independent space.
Rosie Flo's Art Gallery
We absolutely love this. Children will have hours of fun setting up, colouring in and creating an entire mini art gallery, complete with gift shop, and they can learn about the great masterpieces while they're doing it. Each piece of art is double-sided – one side showing the real painting, the other side with an outline to colour in. From six years.
Casdon Toy Post Office
This toy has been designed to allow youngsters to pretend they're working in the adult world in a fun way, with lots of stimulation and education thrown into the mix of post office goodies – including weighing and counting to encourage numeracy. It's not the most hardy of toys, so be sure to clear it up carefully after each play. Three years and above.