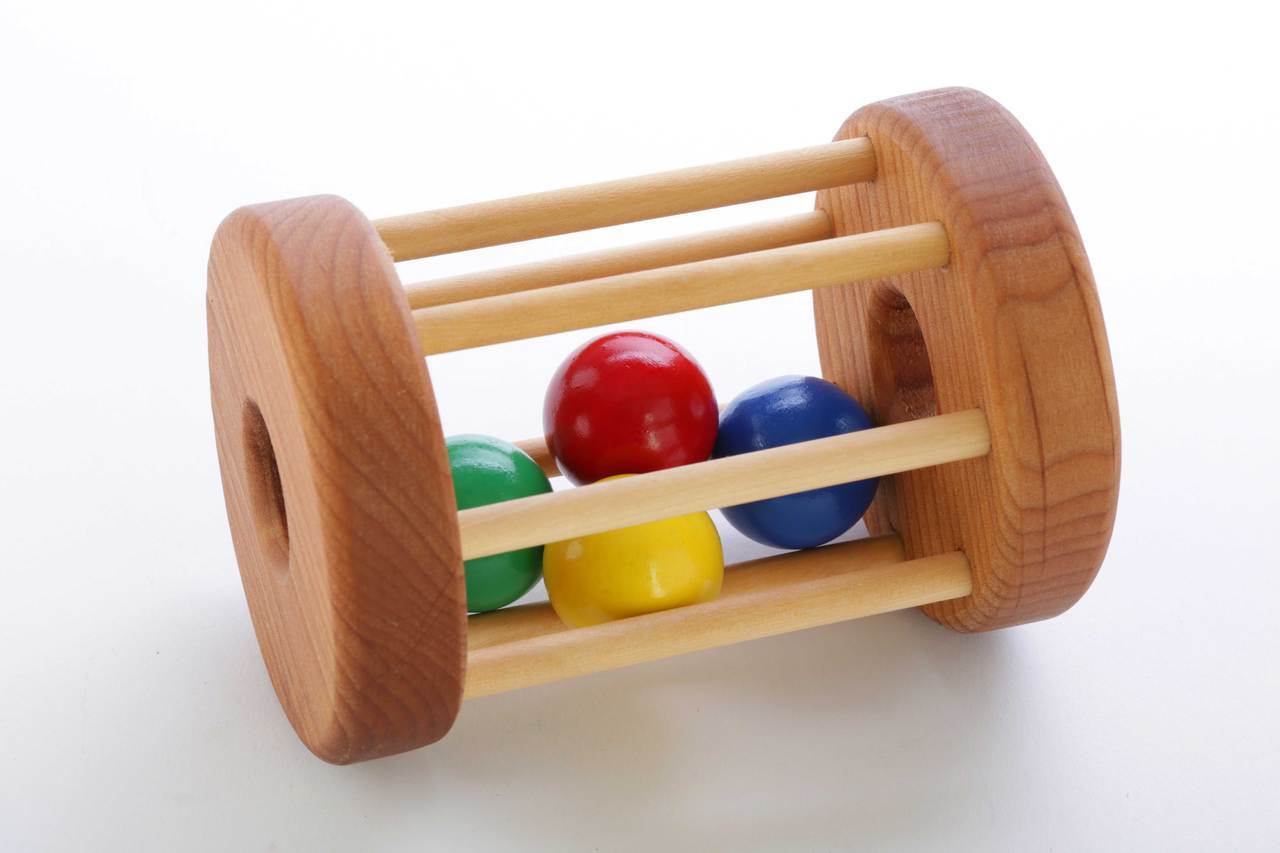 We stock a huge selection of good quality Waldorf toys and Montessori toys made from natural raw materials, our traditional wooden toys are solid and made to last.  Our toys are educational and stimulating for your child, wooden toys feel great in the hand or mouth, organic cotton and wool absorb familiar smells and are comforting for your little ones.  We take great pride in selecting only the best toys for our website, they are safe toys with green and eco friendly credentials and they are all ethically sourced.  We believe that toys should be fun, stimulating, safe and made for children but never ever by children.
Besides looking a lot nicer than plastic toys, wooden ones have so much going for them – they're timeless; they encourage imagination; and they're tactile, safe and quiet. Our round-up brings you the best of them, so you can get going with your Christmas shopping.
Wooden Infant Toys
Sometimes the best toys are the simplest ones. And with our fun-packed collection of with classic wooden blocks, kids' puzzles, baby walkers, and more, playtime goes retro and eco-friendly. Good for your baby's health and good for the earth, much of our wooden toy assortment is responsibly made and brightly colored with nontoxic, water-based paints. And when it comes to holiday and birthday time, these healthy toys sure make for the perfect baby or toddler gifts. Browse now for fun gifts like wooden kitchen sets and play food, wooden playhouses, musical toys, and even pull toys.
Why Wooden Toys?
There are no batteries required for these sturdy, classic wooden toys and wooden blocks. The only thing you'll need to have a good time is a little imagination! Delight your kids with wood pirate ships, construction sets, musical instruments, puzzles, play food and more. Your little boy can have all the trucks, cars, and boats his heart desires and your little girl can deck out her dollhouse with adorable wood furniture. Our wooden toys are designed for kids of various ages all the way from babies to pre-teens, so you're sure to find a little something for everyone. The best part about wood toys is that they are safe, solid and high-quality which means your kids will be playing with our wooden toys for years to come.
But beyond the blocks' good looks lurked some very basic questions of function. Design Boom noted a product disclaimer that "the pieces can warp or fit together imprecisely due to the nature of the material in different temperatures and scale of humidity." Another commenter brought up sustainability, "considering the sheer number of Lego blocks produced a year." Are Legos even Legos without the universal snap-together property? Do toys need to be as artisanal as our food? I understand why my child would want to make his own toy, but does someone else need to do it for him? And why wood?
In her new book, "Designing the Creative Child: Playthings and Places in Midcentury America," Amy F. Ogata explores the answers to these questions by taking us back to the past. Back to the postwar period, specifically, when parents began to pour time and money into products and spaces that would make their children more creative. The baby boom restructured the American landscape, creating a demand for thousands of new schools, new homes, and expanded institutions. With this new construction came new thinking about how, where, and with what tools American children should be educated. Creativity, closely aligned with individuality, was seen as a character trait necessary for the democratic citizen, Ogata writes—a contrast to an image of the more rigid, state-directed child rearing in Soviet countries. The result was a miniaturized version of the postwar "consumer's republic," with products created to answer "needs" in thousands of new categories.
It's shocking, as Ogata tours you through the playrooms, schoolrooms, and science museums of the era, how much of the current aesthetic landscape of upper-income childhood—delights and anxieties alike—was constructed in the late nineteen-forties and nineteen-fifties. The only major change is that now we like our adults creative, and our children smart.
On the question of wood, Ogata writes, "Among the educated middle and upper-middle classes, wood became the material symbol of timelessness, authenticity and refinement in the modern educational toy." She quotes Roland Barthes, who characterized plastic and metal as "graceless" and "chemical," and argued that wood "is a familiar and poetic substance, which does not sever the child from close contact with the tree, the table, the floor. Wood does not wound or break down; it does not shatter, it wears out, it can last a long time." Dr. Spock argued for the abstracted wooden train over the realistic metal one, while Creative Playthings, an early educational toy store and catalogue, combined furniture and toy in the Hollow Block: maple cubes, open on one side, that could be used for storage or fort-making.
If you look at high-end children's furniture today, it still subscribes to this bleached aesthetic: the Oeuf beds, which notch wood and white panels; the Offi chalkboard table, which combines Eames-inspired bentwood legs with a surface ready for creative activity. To what do we owe the success of Melissa & Doug toys—made cheaply and not to last, often with a single playable quality—but their base layer of wood? Mokulock uses language very close to that of Barthes in its promotional material: "Mokulock's intention is to provide children who grow up in an urban and rather sterile environment with the possibility to connect to and understand nature and ecology in a playful manner."
Building toys, of whatever material, were a popular category in postwar designs aimed at children: the Walker Art Center developed the Magnet Master, steel plates in basic shapes; Charles and Ray Eames created the patterned-cardboard House of Cards; Colorforms let children build, play, and learn with rubbery colored shapes. Those simple shapes and primary colors were repeated, at larger scale, in playgrounds and playrooms. Ogata describes the winning designs from the 1953 Play Sculpture competition (judged by, among others, the architect Philip Johnson) like a series of blown-up blocks: a "playhouse with pierced panels and a trellis of metal rods," "spool-shaped upright forms," and bridges that offered "places to crawl or hide beneath."