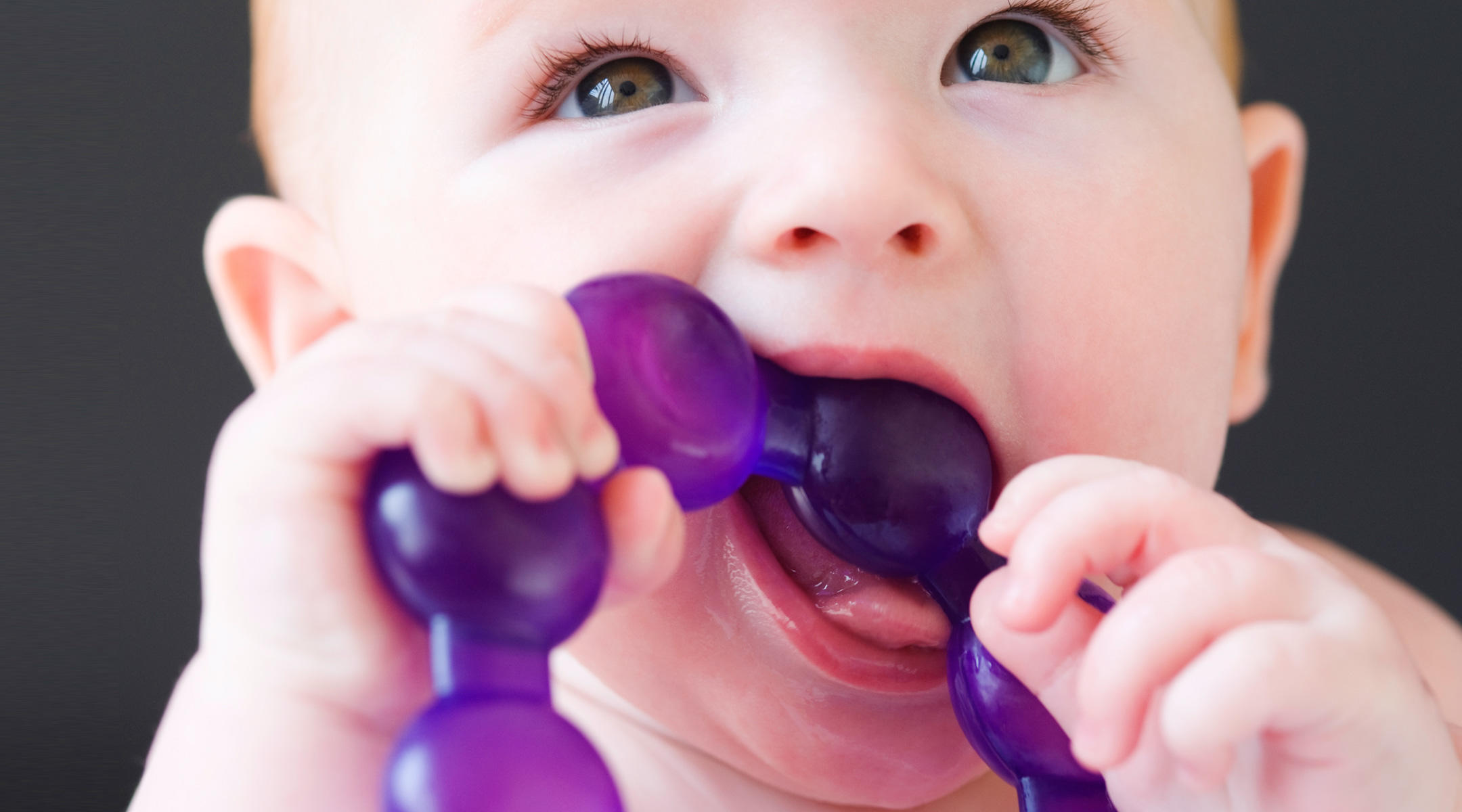 Teething typically starts around 4-6 months of age, and there's no mistaking it.
You'll know, because they'll put literally anything in their mouth in an attempt to get some relief…
…even if that includes their own fingers or anything in arms reach.
Teether toys are a great way to keep their tiny mouths busy, but not all teethers are safe to use. In fact, some have awful, harmful chemicals you'd want nowhere near your little one's mouth.
When your baby starts teething, she'll want to get her hands — and mouth! — on literally anything. Check out our top picks and give that little cutie something safe to chew on.
Below, I've put together a list of baby teething toys, from training toothbrushes to rattles to teething necklaces. There are even some that you can add frozen fruit to and let baby gum to soothe teething pain.
Over the Rainbow Teether
This quirky teether provides a ton of relief for little mouths. Your baby will feel better by gnawing on the top hat brim, or noshing on the texturized tentacles for some serious relief.
Elephant Teething Toy Set
Feel confident knowing you'll be able to take care of your cutie in an instant when you're on-the-go with these adorable elephant clip-on teethers. You can simply clip it on your shirt, diaper bag, or your baby's onesie!
Nurtureland Fruit Teethers
What's that noise? Nothing? Oh, right … Your baby is too busy self-soothing with one of these adorable fruit teethers. Your little munchkin will love the softness of the silicone.
Vulli Sophie the Giraffe So Pure Teether
Just like the popular Sophie the Giraffe toy, her teething twin is just as cute. But unlike Sophie, the teether has easy-grip handles, so it's less likely to get dropped on germy floors.
RaZ Baby RaZ-berry Teether
Give your baby a familiar shape to chew on with this sweet treat. This teether works just like a pacifier to soothe cranky babies, but also has a bumpy texture to soothe sore gums, too!
Comotomo Silicone Baby Teether
Saving fingers, one teether at a time! If your infant loves to chomp on their fingers (or yours), this option will be a must-have for her.
It's easy to hold with endless biting options that mimic fingers and features a unique non-choking design. Not only is it BPA-, PVC-, and phthalate-free, but this medical-grade silicone toy is also microwave- and dishwasher-safe. So sanitize away!
Manhattan Toy Skwish
It's a toy, rattle, and teether in one! Comprised of wooden dowels, elastic ties, and beads that slide back and forth, this easy-to-grab creation can be "skwished" down and will return to its original shape on its own. The un-dyed finish is perfect for families who are cautious in regards to chemicals.
A great teether—and toy—that your infant can enjoy through many developmental stages!
Green Sprouts Ring Cool Teether
For babies who don't enjoy a lot of texture but prefer a cooling effect—look no further than this teething ring! Filled with sterilized water, it can be chilled in the refrigerator to help soothe your infant's gums and reduce inflammation.
In addition to avoiding BPA, PVC, and phthalates, this non-toxic design is also free of nitrosamine for those parents trying to steer clear of it in their children's toys.
Baby Banana Infant Training Toothbrush & Teether
This adorable banana-shaped teether is also an infant training toothbrush. Baby can chew on any part of it, as well as scrub her teeth clean on the soft silicone bristles. The Baby Banana Infant Training Toothbrush & Teether can be tossed into the dishwasher for cleaning, and you can also freeze it to make it even more soothing on baby's gums. It's got two handles that look like the banana peel for little hands to hold onto. Some consumers complain that the silicone material attracts dust and hair and that the silicone "bristles" are easily chewed off (though luckily they are too small to be a choking hazard).
Nuby Silicone Teethe-eez Teether with Bristles
The Nuby Silicone Teethe-eez Teether with Bristles is another 100% silicone teether and toothbrush in one. It's priced at just $4.99, and right now you can clip an Amazon coupon for an extra 20% off. This product comes with a hygienic carrying case for travel, which can help with the teether's tendency to attract dust and hair. It is safe for babies starting from birth. Like the Baby Banana teether, the bristles on the Nuby Silicone Teethe-eez Teether tend to break off. Some consumers complain it is a little too large for baby's mouth.
Baltic Amber Teething Necklace for Babies (Honey)
This amber teething necklace from Baltic Wonder works a bit differently than other baby teething products. Instead of chewing on it, babies wear it around their necks. The 100% Baltic amber contains succinic acid, which works with baby's body heat to produce anti-inflammatory and immune system boosting properties. The product is supposed to reduce teething pain, drooling and fussiness in teething babies. This product is more expensive than your typical chewie teether, but it may be worth a try to see if it reduces your baby's teething pain. Beware that some consumers report receiving a product that seems to be plastic, not 100% amber.