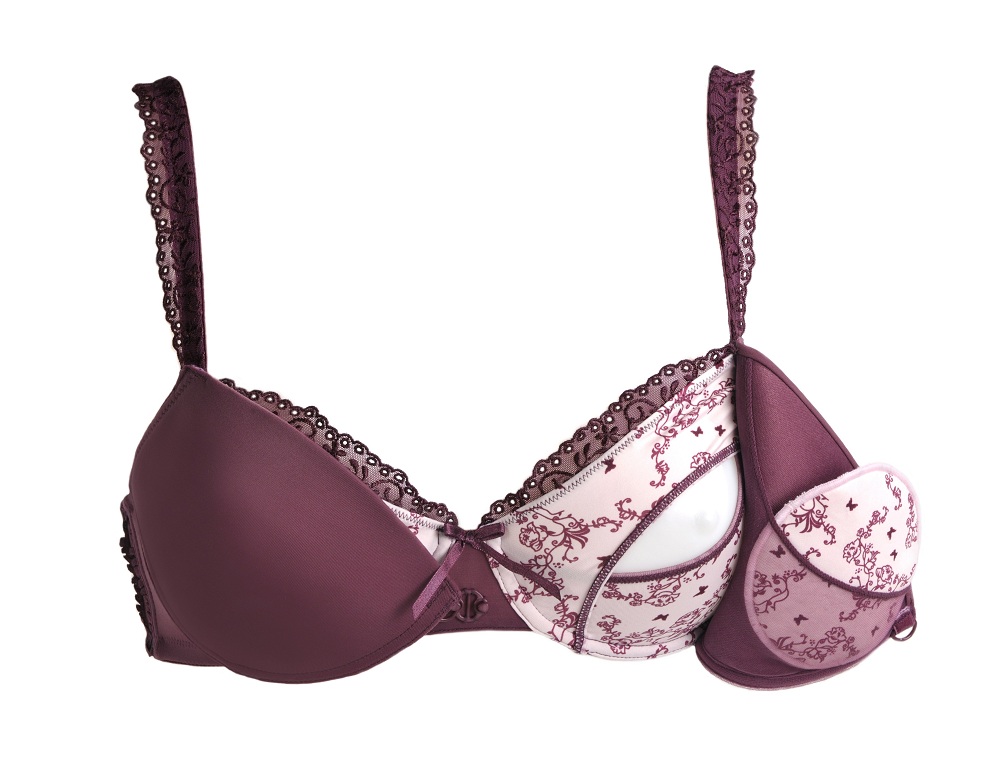 Your breast fills with milk and your heart overflows with love. When your little sunshine sucks at your breast you will experience a very special feeling of happiness and fulfilment. We help you stay happy and make breastfeeding as easy as possible.
Do I Need a New Bra During Pregnancy?
Yes, most likely. Like the rest of your body, your breasts are changing too, becoming bigger and more sensitive to the touch. Chalk up this metamorphosis to hormonal shifts, weight gain, an expanding rib cage, and, later in pregnancy, mammary glands that are preparing to make milk for your baby.
While it may be tempting to make do with the bras you have (think of the savings!), it's best to invest in a few good bras. Your growing breasts are heavier – the developing glandular tissues can add on a few ounces per breast, at least – and deserve some comfy support.
The Difference between Regular, Maternity, and Nursing Bras
A maternity bra is a souped-up version of a regular bra – specifically designed to comfortably support your growing breasts during pregnancy. Wider straps, a soft cotton lining, and extra hooks and eyes on the band are just a few of the features you'll typically find in a maternity bra. Maternity bras usually don't have underwire cups. Note: Some regular bras offer these features as well and will work fine during pregnancy.
Maternity and nursing bras differ in one basic way: Nursing bras have clasps or panels that allow easy access to the nipples for breastfeeding.
Many women prefer a combination of both, buying maternity bras or larger sizes of their favorite pre-pregnancy bra in the beginning and switching to nursing bras somewhere in the middle of the third trimester.
If you do buy nursing bras to wear during pregnancy, make sure they give you room to grow. Your breasts may go up another cup size or two after your baby arrives and your milk comes in.
Finding the Right Nursing Bra
As with all bras, finding the right fit can be a challenge.  It is the same process as with standard bras, the band under your bust should sit flat across your back not riding upwards. Avoiding any cutting in on your breast tissue is important. Bras which are too tight can restrict the flow and amount of milk produced – so it is important to change to to a Maternity/Nursing bra after you feel like your non-maternity bras are uncomfortable and no longer fitting or offering the right support.
You may find your cup sizes change as your pregnancy progresses, every pregnancy and woman is different, however you may find you need to go up 3-4 cup sizes and increase your band size as your baby grows. Further changes can occur during the nursing cycle, when your milk flow comes in you may increase in the cup size before your bust size settles again.
What Should I Look For?
A good nursing bra needs to be flexible, allowing extra room for when your milk comes in. It should never constrict or squeeze your breasts, even when closed.
Your nursing bra should also have:
Four hook-and-eye fastenings, for added comfort.
Wide, non-slip shoulder straps, broad sides and back, and a deep centre at the front, for extra support.
Cups that you can open and close with one hand, for when you want to breastfeed.
An opening that will provide plenty of room for your baby to feed comfortably.
You may want to get a sleep bra too, as your breasts will leak milk at night, as well as in the day. You may also feel more comfortable having your breasts supported at night-time.
How do I know if it's the right fit?
The best way to make sure you're buying the correct size is to be fitted by a professional at a specialty bra or lingerie store, maternity store, or the lingerie section of most large department stores. The service is free.
Joyce Andrews, senior fitter at the Bra Smyth, suggests sitting down while wearing the bra to "see where it hits the belly." While standing up and sitting down, there should be no bunching, pinching, or sliding anywhere. If the chest band rises up into the breast area from the rib cage; the cups overfloweth (or gap); or the straps are too tight or fall off your shoulders despite adjustments, the bra won't work. A basic rule: If the bra causes any discomfort or hassle in the dressing room, it'll only get worse during regular wear.
Some Tips
Understand Your Breasts – Shape & Fit
Assess your body & determine a size that will be most suitable.
Figure out your Size!
Whilst nursing bras from different company's can fit differently there is generally a standard, so start with it.
Reviews Product Information
A combination of product text & reviews are a good place to look to understand the product.
Use Measurements
Using a measuring tape can help you identify your size.
Know what you want & need
Nursing bras come in all sorts of shapes, styles, colors and fabrications. Be clear on your motivations prior to purchase.
Terms and conditions of sale
Purchase from a store that offers easy exchanges and/or refunds.
Security
Always make your purchase from a safe secure website.
Try your purchase as soon as possible
Don't remove the garment tags prior to trying on the garments.
Last Tips
It's a good idea to be measured so that you know your bra fits properly. A tight bra may make it easier for your ducts to become blocked or for mastitis to set in.
Don't buy your nursing bra too early in your pregnancy. Believe it or not, your breasts will get even bigger when your baby's born. Wait until the last month and then buy two or three.
Opt for a professional measuring and fitting service, either in a department store or through a specialist lingerie shop. A trained fitter will make sure that the cups cover most of your breasts with no overflow at the top, and that the centre seam is lying comfortably against your breastbone.