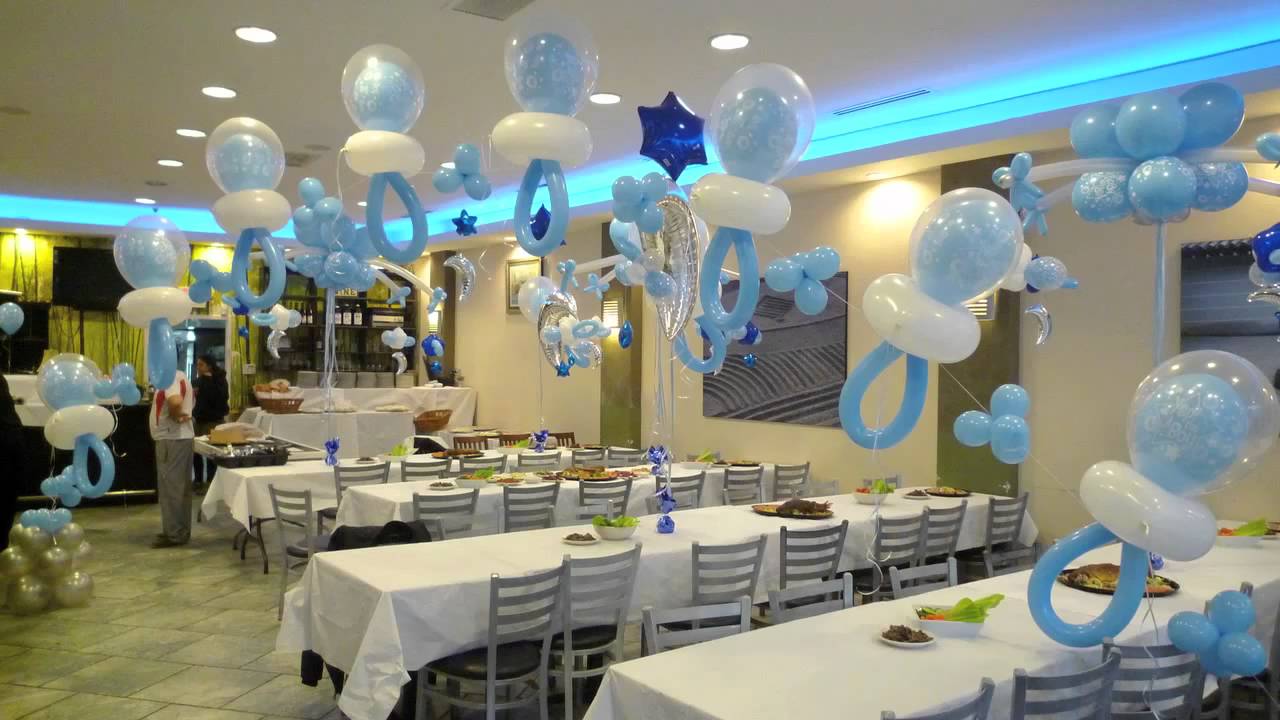 So, its time for the baby shower! What a great time for the mother-to-be to get together and party with friends and family and to celebrate the upcoming birth of the new child. Pregnancy is a stressful time for any woman, the baby shower gives her a chance to relax and have a little fun. It's time to throw a party that will be remembered forever.
There are many theme directions that a boy baby shower can go. Today we're offering you a closer look at some of the ideas that give a celebration that extra wow no matter what design your party is. Although the cakes and cupcakes often take center stage, a boy baby shower goes flat without the charming decorations. Have fun looking!
Boy Baby Shower Decoration Ideas
Airplane Themed Boy Baby Shower
A mantel and a clothesline full of onesies is decorated with boy-worthy clothespin airplanes. There's a good diaper cake picture, too. From Kristen Duke Photography via Life and Baby.
Blue Ruffle Boy Baby Shower
Blue and brown, stripes, ruffles and birdies are combined into a darling backdrop and dessert table. From Terri Vandermeer via Bubble and Sweet.
Country Boy Baby Shower
Sheets of scrapbook paper make an easy and colorful table backdrop. From Party Like Paula via Catch My Party.
Country Garden Baby Shower
Large paper flowers add a big dose of color and design to the there's a bare spot there. From Sunny By Design via Spaceships and Laser Beams.
Owl Themed Boy Baby Shower
I really like the backdrop behind this table; lines of rope provide a place to add decorations. The overall effect of this shower is lovely, too. From Monika Branley Photography via Life and Baby.
Boy Baby Shower Brunch
An elegant blue rose flower monogram and real goldfish swimming in the flower bowls caught my attention at this event. From Velvet Events via Hostess With the Mostess.
Mustache Bash Boy Baby Shower
I chose to include this Mustache Bash because of the combo of lights sparkling in the tree with tissue poms festooning the branches…and the ladies in their mustaches look like they're having such fun! From The Great Scotts.
Train Themed Boy Baby Shower
Train tracks and bridges used for serving foods? Yeah and it's cute. From Covet Collect Connect.
Bun in the Oven Boy Baby Shower
A DIY mini oven is all about serving up cupcakes and smiles. From GreyGrey Designs via Spaceships and Laser Beams.
Robot Themed Boy Baby Shower
Stacks of blue bins full of diapers have morphed into a cute robot-resistance is futile. From Amanda Pair Photography via Life and Baby.
Girl Baby Shower Decoration Ideas
These baby girls' shower themes will definitely put this special party right over the top!
A Little Birdie Told Me
A little birdie told us that this vintage-inspired party theme is worth tweeting about! This pink-and-blue party, submitted by Marissa of Paquenos Luxos to Kara's Party Ideas, has touches of green from tiny topiaries, plus an abundance of rosebuds, patterns (stripes, polka dots, and gingham), and birds, of course! Cute white birdcages and wooden birdhouses, birdie cupcake toppers, felt bird decorations, and fondant birds on a cake complete this adorable shower theme.
Pink and White Roses
Nothing says "baby girl" more than a gorgeous pink-and-white rose themed shower, like this one from Pizzazzerie. The beautiful baby shower is filled with all things pink and white: striped decorations (like signs, straws, napkins), pink lemonade, white petit fours topped with pink roses, iced cookies, raspberry tarts, and gorgeous white flowers tied with pretty pink bows. Pink roses in striped boxes even make the perfect parting gifts.
Shabby Chic Tea Party
If your circle of friends includes tea drinkers, why not have a tea party baby shower? Andressa from Twinkle Twinkle Little Party submitted her lovely take for a shabby-chic tea party to Kara's Party Ideas. The delicate take on a traditional idea combines rosebud prints and lace in soft, delicate colors, along with rag dolls, fancy teacups, and a beautiful pink rosette cake.
You Are My Sunshine
Your soon-to-be bundle of joy is already your little sunshine, so this theme from Lemonberry Moon captures that love. Yellow, white, and blue colors are used in this sunshine-related shower, and yellow "You are my sunshine" signs, adorable throw pillows with the song verses on them, and blue raindrop garlands can be kept as nursery decorations. Sun-shaped cookies and candy pops, plus rainbow Jell-O and fruit cups, add the final touches.
Parisian Sunflower
If you can't bring your baby shower to Paris, why not bring Paris to your baby shower? This idea from Fete Fanatic is trés magnifique for a spring or summer shower. The yellow, black, and white theme comes together effortlessly with real sunflowers, polka-dot decorations, cute French-phrase cookies, French macarons and madeleines, and cake pops adorned with tiny sunflowers and Eiffel Towers.
Old World Glam
Classic Hollywood meets all-things-baby in this fancy and sophisticated shower theme from Grey Likes Baby. The stylish and tasteful Old World Glam baby shower features tons of pale gold and pink decorations, fresh flowers, dreamy tulle, and sweet sequins and sparkles. Strawberries and cream, plus an elegant cake with antique lace details, complete the party.
Honey Bee Bash
This Honey Bee Baby Shower theme from Lemonberry Moon is as sweet as honey! The party has a consistent yellow, white, and navy blue color theme (with small pops of pink) and bee details. Beehive chalk decals on mason jars, a beehive-shaped drink dispenser, bee-decorated desserts, and vases wrapped with yellow-and-black crepe paper send the theme buzzing over the top!
Unique Baby Shower Decoration Ideas
Select A Theme
The first thing to do when brainstorming your baby shower decoration ideas is to choose a theme. Pick a color depending on whether your shower is for a baby boy or baby girl, or why not try going nautical, jungle, natural, or choose a character from a favorite storybook or cartoon.
Using Fiskers and Some Rainy Fun
Turn the desserts table into the best feature of the baby shower décor. Embellish cupcakes with paper decorations that match the baby shower theme and tie ribbons around lollipop sticks to create a cute and eye-catching look.
Summer Fun Theme
Baby shower theme ideas can be as simple as creating a summer fun theme. This can be created easily by using bright orange and yellow colored fabrics that can decorate the tables and the same hues can also be used in the balloons and cake icing. Use wooden cutlery and service spoons to bring a seaside feel to the party. Personalize the look with cut-out letters planted into flower pots to spell baby's intended name, or just use the word "baby" to keep it generic.
Cute As A Button Theme
A unique and memorable homemade baby shower decoration idea is to create a feature display using the ultrasound photos of little one, which can be pegged to a wire frame with other embellishments to match the overall baby shower theme. When the party is over these can be put into a scrapbook keepsake for the mom-to-be to treasure.
Everything Blue
Decorate a plain wall by making a ribbon banner using pieces of fabric in a range of color shades for an eye-catching baby shower decoration. Cut the fabric of different hues into strips and tie them to a string for a colorful backdrop that is pretty and also very easy to do.
Spring Themed Baby Shower
Use a simple blackboard to make a personalized welcome note or sign that is cute and impactful in its simplicity.This is a great prop that can then get re-used later once baby arrives.
Simple Pink And White Trims
Make the most of the fireplace mantle by decorating it with ribbons and paper flowers. These simple tulle trimmings can also be used as table decorations or centerpieces. Use matching vases to hold the flowers which can be of complimentary colors to make an attractive scene for the mom-to-be.
Pat The Bunny Baby Shower
Baby shower decoration ideas for girls often involve flowers. Create a gorgeous paper pompom flower and ball lantern chandelier that will be beautiful and eye-catching. Simply string together decorations in a range of colors and sizes to make a visual showpiece over the food table. Party favours can also be made using a petite vase with a crepe paper flower to remember the party by.
Vintage Bunny Themed Baby Shower
An outdoor picnic theme can be perfect when the weather is good, and simple table-settings of fresh wild flowers in vases and tablecloths and napkins in neutral tones can make a simple yet gorgeously decorated baby shower setting.
Tutu Thrilled Baby Shower
For a ballerina tutu theme, use a draped table cloth, balloons and baby's breath flowers with a pretty tulle ribbon. Make a big impact to the baby shower entrance table by creating a 3-dimensional tulle letter to represent baby's name if know for an extra personal touch that can then become a nursery gift.The letter can be made using papermache and a spool of tulle wrapped around the letter.