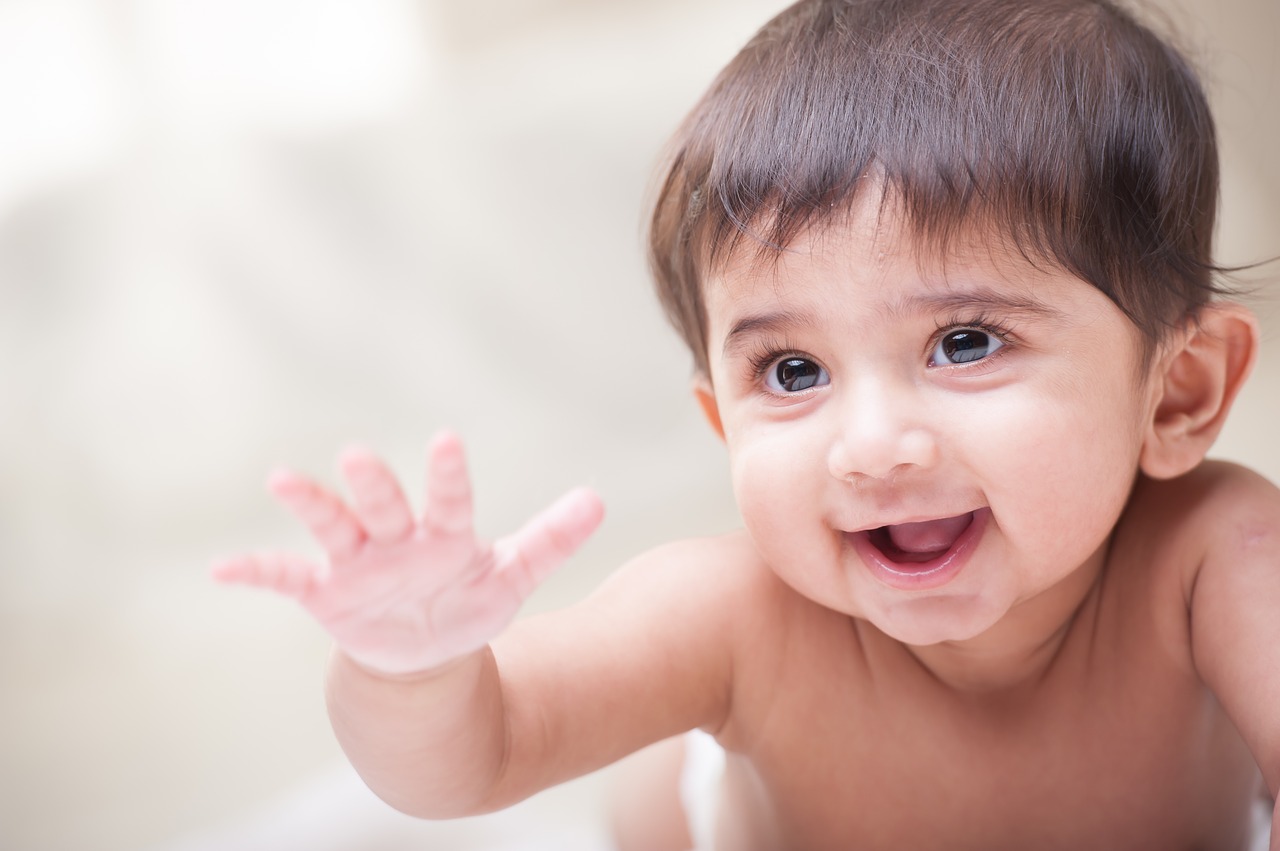 At six months old your baby has turned into a real socialite, interacting with mum, dad and just about anyone who comes into view, here's what else to expect:
Her language has come on leaps and bounds, with long sentences of babble punctuated by cooing and giggling. She will love games of peek-a-boo and any toys she can shake and make a noise with.
She will be fascinated by your face so grin and bear it while she pulls and prods at you as she continues to explore.
Your baby is also learning that her behaviour engages you, so starting now (and for years to come) your child will do just about anything to get your attention.
By now, she will be working hard to get you to notice her by wriggling and making noises. Six-month-olds also love turn-taking games.
Let your baby be the leader and mimic her vocalisations. When it's your turn to lead, a good way to teach your child is to make animal noises.
Sixth Month Baby Milestones
Growth
During the first few months of life, your baby was growing at a rate of about 1 ½ to 2 pounds a month. By now, she should have at least doubled her birth weight. At six months, baby's growth will slow to about 1 pound a month. Height gain will also slow, to about a half-inch each month.
Motor Skills
Your baby may be starting to sit up alone by six months. To get ready, babies first prop themselves up with their hands, but over time they can start to let go and sit unsupported.
Your 6-month-old can probably roll from his back to his stomach and vice versa. Some babies can propel themselves around the floor using this rolling method. Or, they may creep forward or backward — sliding around on their tummies while pushing against the floor. You may notice your baby rise up on hands and knees and rock back and forth.
Sleep
Most babies are sleeping six to eight hours at a stretch by six months. When babies at this age have trouble falling or staying asleep, some parents turn to a method developed by pediatrician Richard Ferber. The Ferber Method, as it is known, involves putting your baby into the crib while she's still awake. If your baby cries, wait for a progressively longer period of time each night before going in to provide comfort. This method works well for some families, but you may need to experiment with several different sleep methods before you find the one that works best for you.
Now that your baby can roll over independently, don't be alarmed if you put her to sleep on her back and she wakes up on her tummy. The risk of SIDS is much lower at six months than it was in the first few months of life. Still, it's a good idea to keep stuffed animals, pillows, crib bumpers, and other soft items out of the crib for now.
What most babies do by this age
Social and Emotional
Knows familiar faces and begins to know if someone is a stranger
Likes to play with others, especially parents
Responds to other people's emotions and often seems happy
Likes to look at self in a mirror
Language/Communication
Responds to sounds by making sounds
Strings vowels together when babbling ("ah," "eh," "oh") and likes taking turns with parent while making sounds
Responds to own name
Makes sounds to show joy and displeasure
Begins to say consonant sounds (jabbering with "m," "b")
Cognitive (learning, thinking, problem-solving)
Looks around at things nearby
Brings things to mouth
Shows curiosity about things and tries to get things that are out of reach
Begins to pass things from one hand to the other
Movement/Physical Development
Rolls over in both directions (front to back, back to front)
Begins to sit without support
When standing, supports weight on legs and might bounce
Rocks back and forth, sometimes crawling backward before moving forward